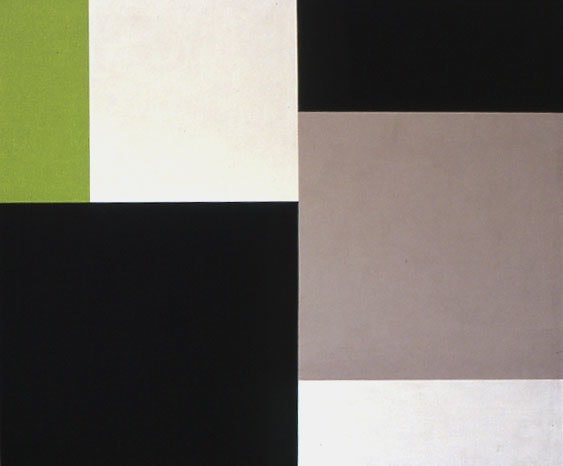 JOHN McLAUGHLIN (1898-1976) is known primarily for his hard-edged, geometric style of painting. McLaughlin was born in Sharon, Massachusetts in 1898. He was a part-time painter even while he worked as a dealer in Japanese prints and also as a translator during World War II in Japan, China, and Burma.
He and his wife lived in Dana Point, California where McLaughlin, a self-taught artist, started his painting career at the age of forty-eight. His experience in the Far East and his growing knowledge of European abstract art led him to a non-objective, quiet form of art. He concentrated on color and form to create a neutral image devoid of subject. His paintings are understated and self sufficient in that they do not have a relationship to one another, they exist entirely alone. His work is not created for the purpose of self-expression; but rather is designed to evoke silent reflection within the viewer.
His first solo exhibition was in 1952 at the Landau Gallery in Los Angeles and subsequent one-man shows followed at the Corcoran Gallery of Art, Washington D.C. (1968), and the Pasadena Art Institute, California (1956, 1963). His work was also included in numerous group exhibitions, including the landmark "Four Abstract Classicists" exhibit at the Los Angeles County Museum of Art. This show, also featuring the work of Karl Benjamin, Lorser Feitelson, and Frederick Hammersley, was organized by Jules Langsner who, along with Peter Selz, coined the term "hard-edge painting" to describe the work of these four abstract artists. He participated in group exhibitions at the Whitney Museum of American Art, New York (1962), and the Los Angeles Institute of Contemporary Art, California (1974). A touring exhibition "Birth of the Cool: California Art, Design and Culture at Midcentury" featured the abstract classicists. New York Times art critic Ken Johnson wrote in his 2008 review of the show: "Mr. McLaughlin's grid-based paintings exude a greater formal austerity [than Benjamin's]. They are composed of smooth, flat rectangles of black, white, off-white and gray with blocks of color strategically inserted here and there. Inspired by Asian art and Zen Buddhism, they have a monastic air about them, but they are suave and materially sensuous too."