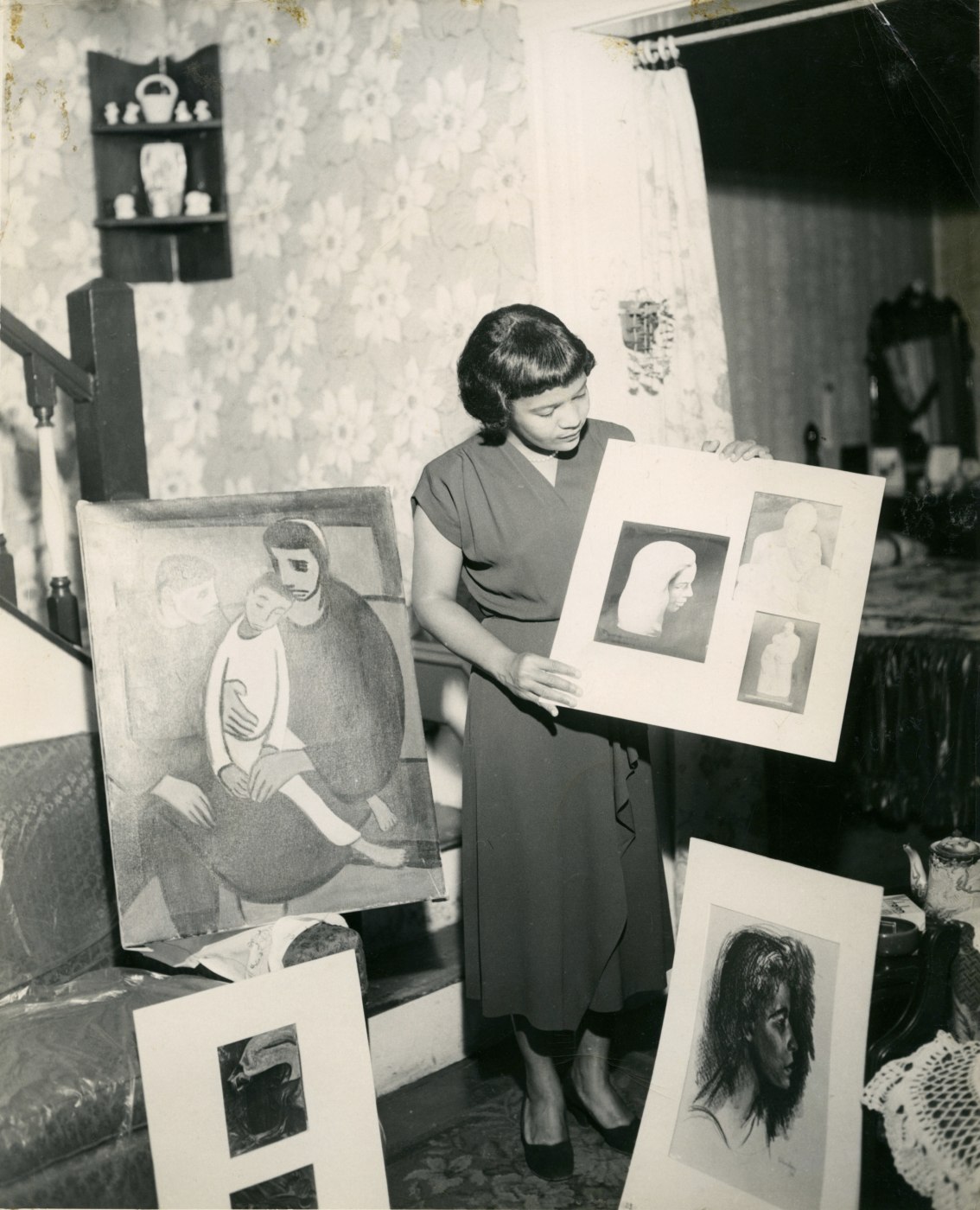 SAMELLA LEWIS has lived in Southern California since 1966, but her story begins in greater New Orleans, where she was born in 1924, the daughter of farmer Samuel Sanders and seamstress Rachel Taylor Sanders. The New Orleans where Lewis grew up was racially segregated but had a more diverse population and richer cultural life than many other cities in the American South. Although she attended Negro schools and was deprived of opportunities available to whites, she saw beyond arbitrary borders and learned to find her way in a deeply conflicted society. Making art was a crucial part of that journey. Alfredo Galli, an Italian portrait painter living in the French Quarter, became Lewis' first art teacher. Although firmly opposed to modern art, he provided Lewis with essential technical information and a strong background in composition and modeling the human form.
Lewis met her most important mentor, Elizabeth Catlett, in 1941 when she enrolled at DiIlard University, a historically black liberal arts college in New Orleans. As the two artists' work evolved, they shared an affinity for figurative works reduced to bold shapes, but Catlett encouraged Lewis to find her own voice, not to follow her lead. After Catlett was hired to teach at Hampton Institute (now Hampton University), a historically black university in Hampton, Virginia, Lewis transferred there and was granted a Bachelor of Science degree in 1945. At Hampton, Lewis also met another important mentor, Viktor Lowenfeld, a distinguished professor of art education who had fled the Nazi menace in his native Austria. At Lowenfeld's suggestion, Lewis did graduate work at Ohio State University, earning a master's degree in fine art in 1948 and a PhD in art history in 1951. During that period, she taught at Hampton for one semester and started her own family. She and Paul Lewis, a fellow Ohio student, were married in 1948. Their first son, Alan, was born in 1951; the second, Claude, in 1955.
The Ohio years were a time of growth in Lewis' intellectual life as well. She developed a serious interest in art history, researched cross-cultural relationships and delved into correspondences between African and Chinese language and art. For her dissertation, Lewis wrote about cultural influences on the history of art. With that project in process, she began teaching at Morgan College (now Morgan State University) in Baltimore. The Morgan position launched a long and distinguished career in academia, which took her to Florida A&M University in Tallahassee and the State University of New York in Plattsburgh. While living in Florida, from 1953 to 1958, she was an active member of the National Association for the Advancement of Colored People, making her a target of government officials who accused her of being a Communist and members of the Ku Klux Klan who shot out windows of her home. Undaunted, she founded a chapter of the NAACP in Plattsburgh.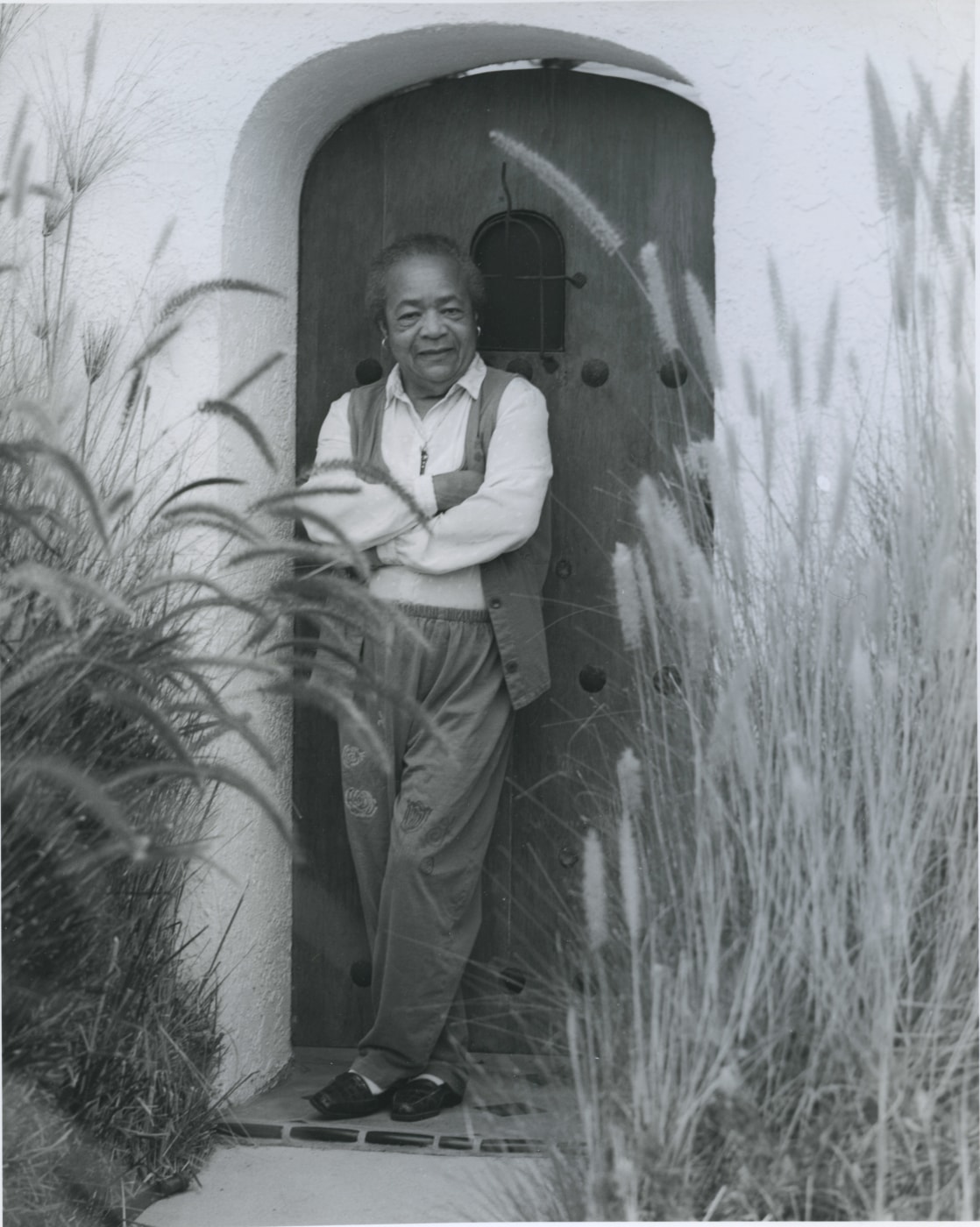 In the early 1960s, Lewis became deeply engaged with Chinese studies. Looking back to that time, she said she was intrigued with tonal qualities of the language, which seemed to correspond to tonalities of languages spoken in Africa. In 1962, when it was extremely difficult for Americans to travel to mainland China, she won a Fulbright fellowship to Taiwan, where she worked at the T'ung Hai University and studied the extraordinary Chinese collection housed at the Palace Museum. While working in Taiwan, Lewis accompanied a Mexican group led by Catlett on a trip to the mainland. Upon her return to the United States, she was granted a National Defense Education Act fellowship to study Chinese language, philosophy and history at the University of Southern California.
That experience eventually led the Lewises to move their family to the Los Angeles area. Samella taught at the California State University at Long Beach State and Dominguez Hills and coordinated education programs at the Los Angeles County Museum of Art before joining the faculty at Scripps College. She taught Chinese, Native American and African art history and black studies at Scripps from 1970 to 1984, while directing the college's Clark Humanities Museum and guiding a new generation of artists, curators and historians.
Among her numerous accomplishments, Lewis has documented the careers of other artists in films and voluminous writings. She has co-edited (with Ruth Waddy) a two-volume guide to contemporary African American artists, founded a scholarly periodical, the "International Review of African-American Art," and published "Art: African American," the first textbook of its kind. In addition, her work as a teacher, curator, collector and social mover has been a powerful force in bringing African American artists to the public eye. Lewis founded the Museum of African American Art in 1976 with a grant from the National Endowment for the Arts while she was teaching at Scripps College in Claremont. Initially composed of a collection largely stored at Scripps, the museum presented exhibitions at a storefront gallery on Pico Boulevard and at borrowed spaces in banks, offices and shopping malls before Lewis and her long-time friend, cultural historian Mary Jane Hewitt, secured the May Co. space (now Macy's) on Crenshaw Boulevard.
To take a long view of Lewis' career is to wonder how she ever found time to make art. She did so because she had to, for herself and others. There were periods when she needed to concentrate on research and teaching, but she has produced art throughout her life. And she never stopped looking at the work of her elders, contemporaries and younger artists. If Lewis' richly varied body of work contains a trademark image, it's probably a lone woman. But that woman may be standing tall, gathering her courage, fighting for justice or retreating into a private moment---reading or playing a musical instrument.