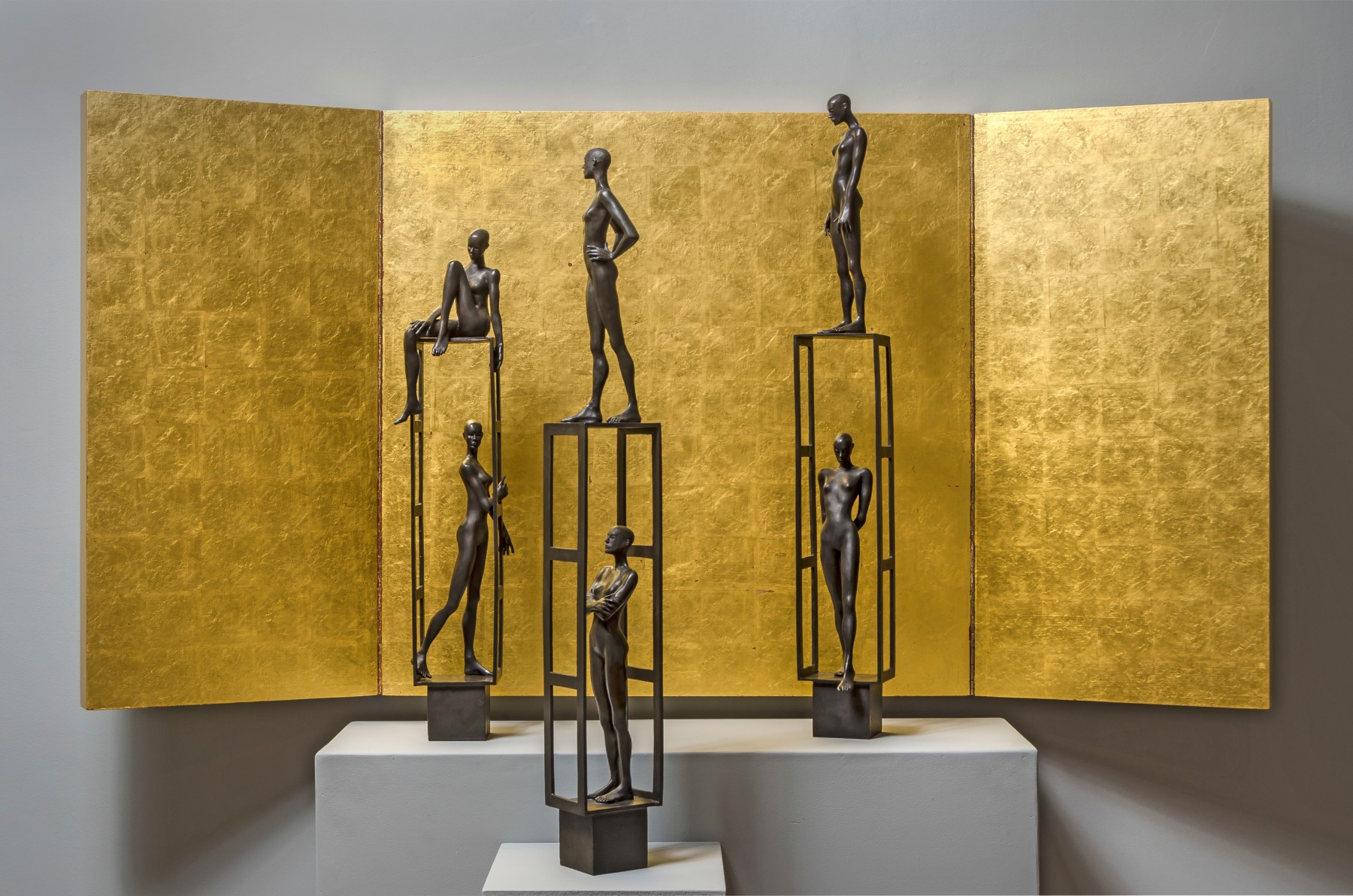 Cecilia Miguez: Transitions
March 16 – April 20, 2019
Los Angeles, CA. Louis Stern Fine Arts is pleased to present "Cecilia Miguez: Transitions." In this exhibition combining recent and revisited work, Miguez's creations are a celebration of form and material. From sleek black bronzes to imposing wood constructions kissed with gold, Miguez's otherworldly creatures enchant with an uncanny presence that seems moored someplace just out of reach. At the same time, these works are imbued with an unexpected tenderness, a vulnerability that is touchingly, undeniably human.
In her newer work, Miguez has trained her focus on her exceptional skills in bronze casting, allowing her knack for the subtleties of gesture and countenance to shine. Tableaux of airy, attenuated figures huddle in conversation, peer from niches, and dip cautious toes from atop a perilous ledge. With the incline of a head or the splay of a hand, these comely figures dance the gamut of human emotion: isolation, defiance, tenderness, envy, curiosity.
A long-cultivated personal mythology supplies Miguez's cast of characters: deer- headed revelers, a towering matriarch wielding an enormous embroidery needle, gold- clad harlequins hefting the day's catch of glistening fish. These delicate players are pregnant with narrative energy, hovering in a twilight realm between action and stillness, silence and speech.
Works by Cecilia Miguez are included in the permanent collections of the Long Beach Museum of Art; the Museum of Latin American Art, Long Beach; the Museum of Contemporary Art, Montevideo, Uruguay; and el Ministerio Transporte (MTOP), Montevideo, Uruguay, as well as in numerous private collections.
Louis Stern Fine Arts is the exclusive representative of Cecilia Miguez.