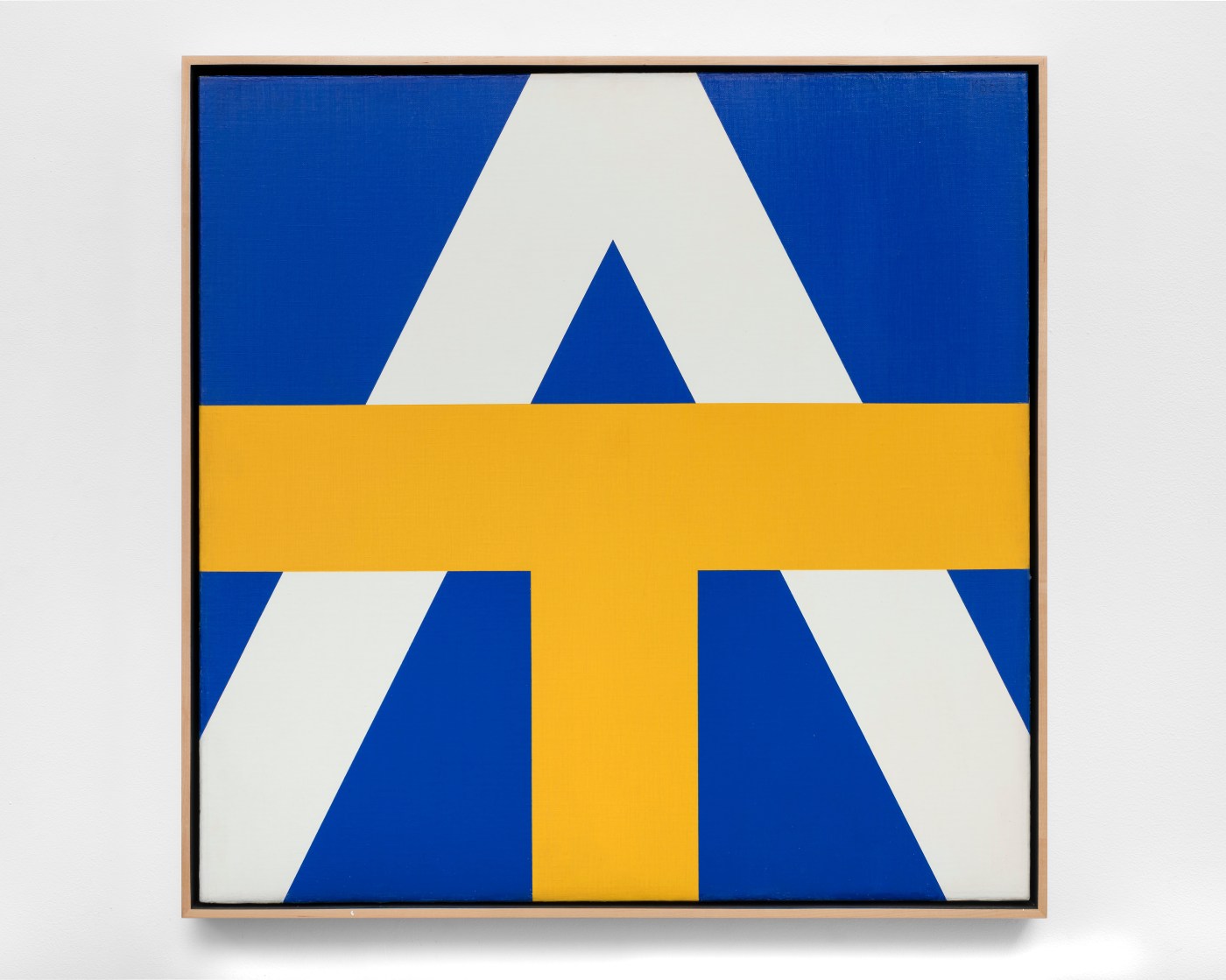 Los Angeles, CA. Louis Stern Fine Arts is pleased to present a prime selection of Karl Benjamin's alphabet paintings. The exhibition of vividly colored, precisely executed works—based on letters of the alphabet and made in 1964 and 1965--is the latest in a series focusing on specific aspects of the artist's long and remarkably productive career.
A painter of geometric abstractions, Benjamin celebrated the sheer joy of painting in works that bristle with energy and dazzle the eye. He was catapulted to art world fame as a founder of West Coast hard-edge painting when his work appeared in the landmark 1959-60 exhibition, "Four Abstract Classicists," at the San Francisco Museum of Modern Art and the Los Angeles County Museum of History, Science and Art, and under the title "West Coast Hard Edge" in London and Belfast.
Benjamin worked quietly and consistently over the next fifty years, mining endlessly fertile territory and never running out of ideas. He typically began with an underlying grid, superimposed a structure based on numerical progressions, modular constructions or random sequences, and chose colors that felt right, but the results are surprising varied.
"I am an intuitive painter, despite the ordered appearance of my paintings, and am fascinated by the infinite range of expression inherent in color relationships," Benjamin wrote in 1986.
The works known as alphabet paintings are a case in point. Their titles are numbers, not letters, and the letters that inspired the paintings are not necessarily apparent. Occasionally a big blocky F, H, I or T pops out, but it may be upside-down or sideways. The letter may appear with a mirror image of itself, or as part of a negative/positive space relationship with another letter of the alphabet. Clearly, Benjamin's self-imposed systems were merely a starting point for creative exploration. And, as a consummate colorist, he knew how to make each work sing. Although the alphabet paintings are relatively simple--limited to a few chunky shapes in two or three hues--the reductive quality of the compositions makes the juxtapositions of color seem all the more powerful.
Born in Chicago in 1925, Benjamin spent his adult life in Southern California and died in 2012. He lived and worked in the college town of Claremont, where he taught art at Claremont Graduate University and Pomona College.