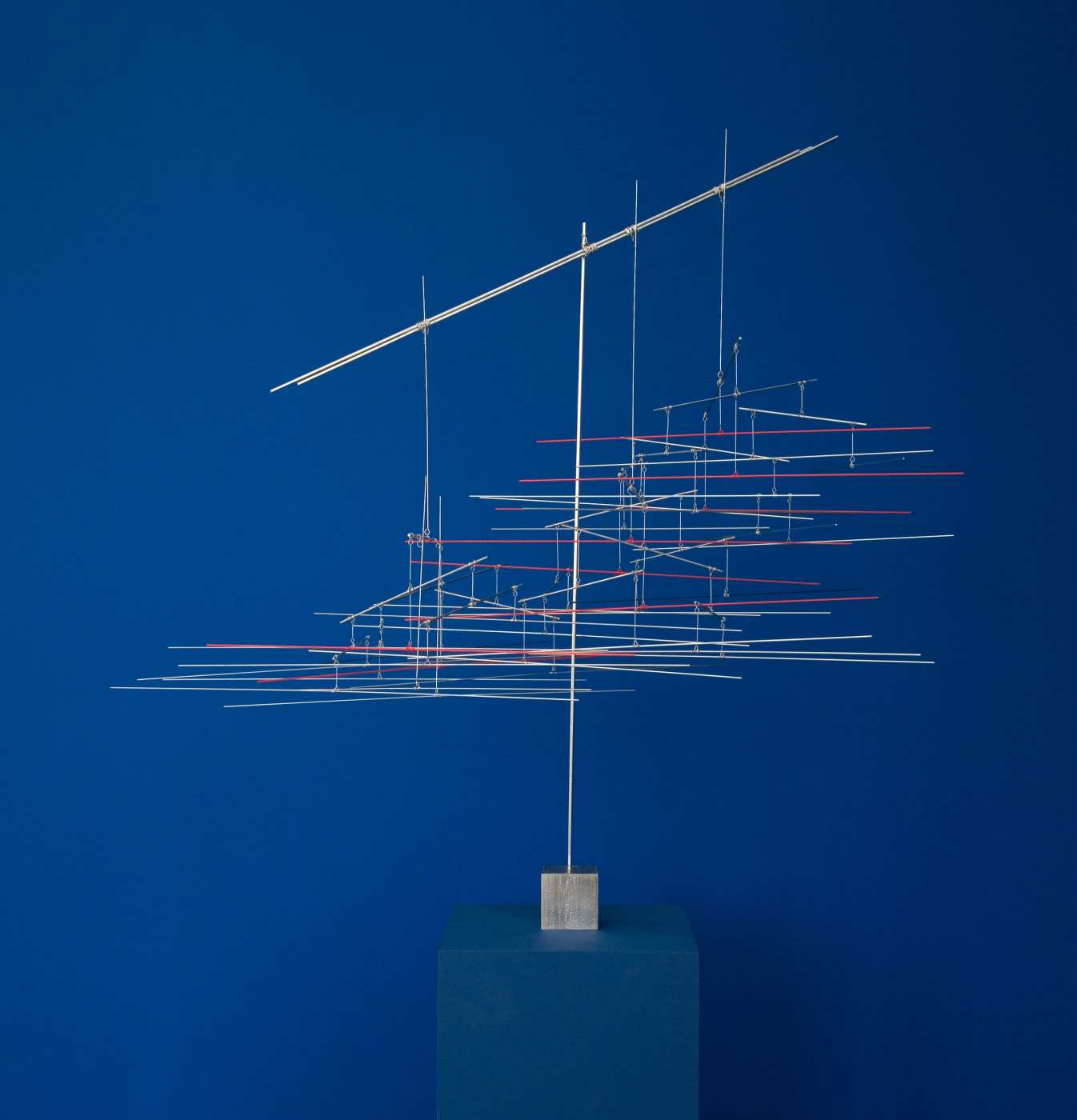 Knopp Ferro: Metal in Motion
April 28–June 2, 2018
Los Angeles, CA. Louis Stern Fine Arts is pleased to present "Knopp Ferro: Metal in Motion." The exhibition of sculptures created between 2012 and 2014 highlights the artist's magical ability to set metal into motion. This medium used by Ferro becomes anything but 'heavy' as the works take off into flight and the air sets them moving.
The delicate composition of metal rods draws in and interacts with the visitor, creating a unique experience every minute due to their propensity to move. The hanging mobiles shift with any breeze created by passers-by. The shadows on the wall jump around and dance in the light. Ferro's stabiles rest at eye-level for viewers to gaze through and walk around. These bottom supported works defy ideas of gravity as they maintain their flight and delicacy. Ferro explores these themes of gravity and magnetism, most often defeating their commonly accepted norms. Under his direction, the structures seem to shed their own skin and achieve a poetic relationship with their surroundings.
As the fragile rods dance in the air, their gentle shadows flit on the walls around them. The structures are two-fold: the physical metal compositions and their elusive junctions, and the transformation of their surrounding space.
Knopp Ferro, Austrian, but born near Cologne, Germany is both a sculptor and a performer. He studied metal sculpture and performance art in Cologne, and from 1980 to 1990 was part of the Zurich based performance theatre "Bumper to Bumper" as an author and performer. From 1992 to 1994 Ferro lived in New York, seeking new input and inspiration. He later returned to Cologne and rented a studio on the banks of the Rhine. In 2005, Ferro moved to southern Germany, living in Munich and working in Inning.
Ferro has completed commissions for large scale works in Switzerland, the USA and Latin America, and has been exhibited in Sao Paulo, Paris, Madrid, London, Cologne, and Caracas. He has participated in many international art fairs and performed across the world. His work is included in public collections such as the Artothek in Cologne, the Collection Ute and Michael Berger, the Ella Fontanals-Cisnero Collection, the Landesmuseum Niederösterreich, and the MACBA Museum Art Center.