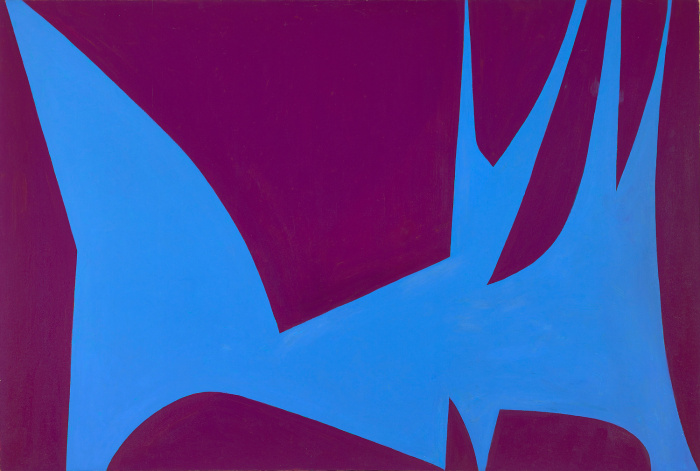 Lorser Feitelson: Figure to Form
February 24–April 21, 2018
Los Angeles, CA. Louis Stern Fine Arts is pleased to present "Lorser Feitelson: Figure to Form." Displaying an expansive array of works from early Post-Surrealist drawings to mature Hard-Edge paintings, this exhibition highlights the artist's deft command of the human figure and his masterful ability to distill it to its most concentrated and essential forms. Created from 1935 to 1962, these works comprise a comprehensive survey of Feitelson's West Coast output, as his focus shifted from representation to pure geometric abstraction.
Best known as one of the founding fathers of West Coast Hard-Edge painting, Lorser Feitelson (1898–1978) first rose to prominence as a Modernist painter after moving to Los Angeles in 1927. By 1930, he was working in Post-Surrealism, a movement which rejected the unconscious and dream-inspired works of European Surrealism in favor of carefully planned, rational compositions designed to gradually guide the viewer to a deeper meaning.
Around 1940, Feitelson began to distance himself from figurative work and embarked upon a remarkable exploration of abstraction. The sinister biomorphic "Magical" forms of his postwar period both echo and contort the gloomy compositions of his Post-Surrealist period. This body of work – as the artist wrote, "neither human nor animal, yet recalling bone-like forms" – "metaphorically expresses the deep disturbance of our time: ominously magnificent and terrifying events, hurtling menacingly from the unforeseeable."
By the time he had exhibited in the landmark 1959-60 exhibition, Four Abstract Classicists (considered the first of the Hard-Edge movement), Feitelson had abandoned his sinuous, volumetric figures to explore the interplay of flat, two-dimensional forms and space occupying the entirety of the picture area. These "Magical Space Forms" concisely embody the substance and spirit of the human figure, with brightly colored shapes that balance on the brink of collapse, battle for dominance or hover tantalizingly close, suggesting the tension between lovers.
The largely self-taught Feitelson demonstrated a strong command of Old Master-style draftsmanship from an early age. This skill is apparent in the artist's sensitive, elegant studies for his Post- Surrealist works, as well as those for his later abstract investigations. The inclusion of these drawings in the exhibition is instructive, guiding the viewer through Feitelson's intimate thought processes as the artist worked to refine the human body into ever more concise forms. From carefully composed symbolic tableaux, to hulking biomorphs and charged, assertive planes, the human figure remains the shared obsession pulsing through the works featured in this exhibition.
Works by Lorser Feitelson are included in the permanent collections of the Los Angeles County Museum of Art; the National Museum of American Art, Smithsonian Institution, Washington, D.C.; the San Francisco Museum of Modern Art; and the Whitney Museum of American Art, New York, among numerous other public and private collections.
Louis Stern Fine Arts is the exclusive representative of the Estate of Lorser Feitelson.