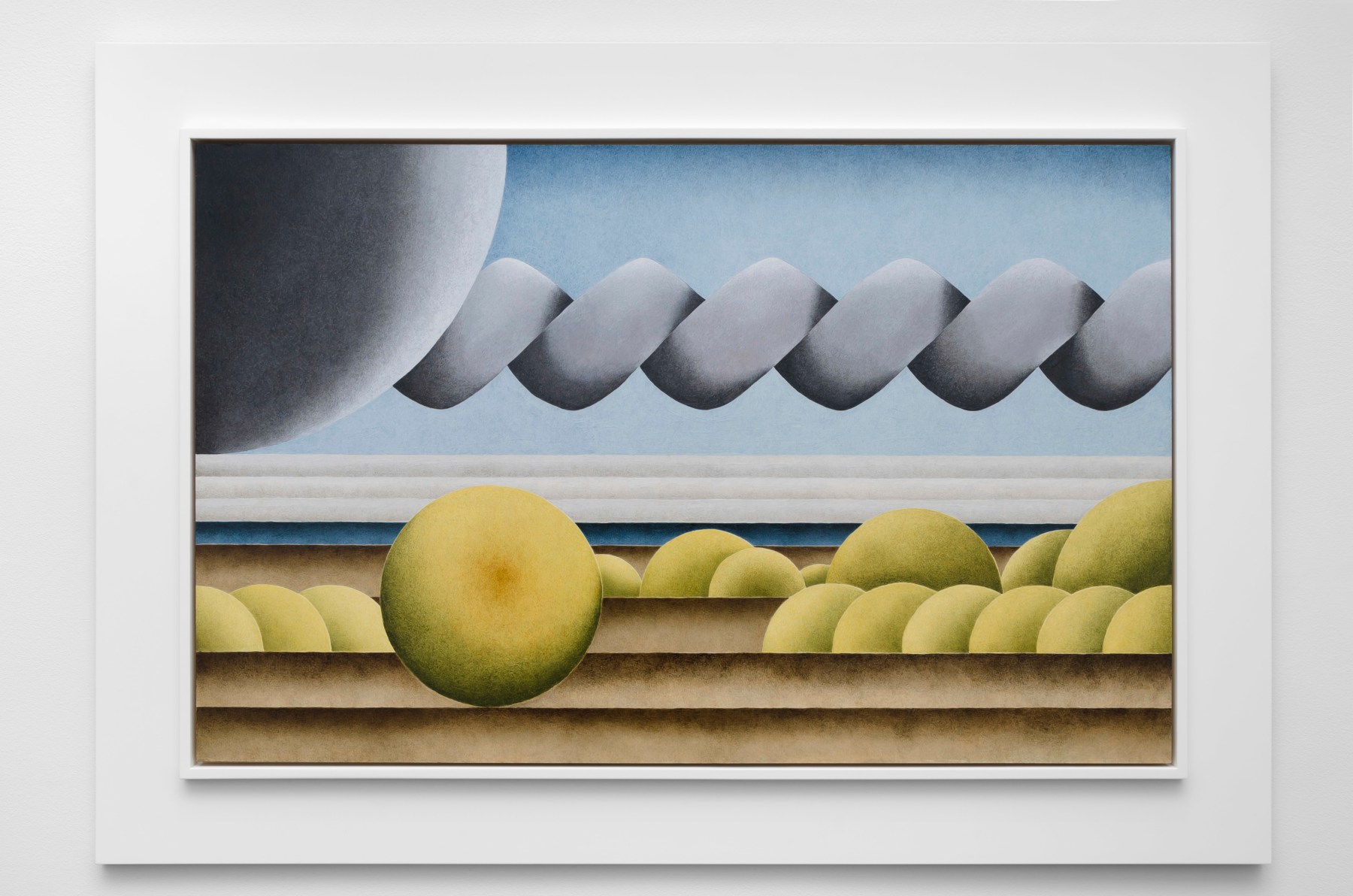 Mark Leonard: Myths and Old Masters
June 9 – July 14, 2018
Los Angeles, CA. Louis Stern Fine Arts is pleased to present "Mark Leonard: Myths and Old Masters." The exhibition of recent paintings and drawings evinces the artist's skill and expertise cultivated over his long career as a preeminent paintings conservator. After decades spent dissecting and reconstructing the anatomy of paintings, Leonard wields his brush as a surgeon might a scalpel – not a stroke is out of place in these economical, precise compositions. The works, however, are anything but clinical; supported on a scaffolding of logical grids, they are given the space to breathe, unencumbered, with frank emotion and pure directional energy.
At the crux of Leonard's work lies the interdependence of equal and opposite forces: order and chaos, logic and feeling, love and loss. This focus is apparent in the artist's Weaving works, in which delicately modeled warps and wefts intertwine, entrapped and made whole by each other in equal measure. These dichotomies are also given shape in Leonard's mythologically inspired paintings. Golden Rectangles: Persephone, with its reflected geometric forms in tones of bloom and decay, captures the inexorable mirror of life and death that attends the cycling seasons.
Drawing inspiration from the Old Masters painstakingly restored by Leonard over his long career, the recent work explores the enduring human stories that have captivated generations of artists. In his interpretation of Nicolas Poussin's Abduction of the Sabine Women, Leonard dissolves and reassembles the scene into innumerable pointillist strokes. The violence and anguish of the original work are condensed into two inextricably bound columns and a thrusting, daggerlike diagonal form. Teasing out the anchoring figures in their strong primary red, blue, and yellow tones, he weaves them into a matrix distilled from the tapestry of warring figures and architecture surrounding them. With his minimalist vocabulary, Leonard hones the turmoil of the original Poussin to a keen edge.
Also on display are Leonard's Constable Studies, the product of his time spent as artist-in- residence at the Yale Center for British Art, where they were exhibited in 2012 alongside the works that inspired them. The essential geometries of John Constable's rich cloudscapes are laid bare, condensed into undulating, rope-like forms and stormy, enigmatic spheres. Leonard studies Constable just as Constable studied the skies, each endeavoring to perfect his ability to capture the sweeping spiritual effects of his chosen muse. Where Constable sought the sublime in nature, Leonard locates it in the logical order he finds at the heart of a chaotic world.
Mark Leonard earned a multi-disciplinary Bachelor's degree in Studio Art, Art History, and Chemistry from Oberlin College, and a Master's in Art History from the Institute of Fine Arts, New York University. Leonard first worked as a restorer for The Metropolitan Museum of Art before spending twenty-six years at The J. Paul Getty Museum, with 12 of those years as the Head of Paintings Conservation. In 2012 he was invited to become the first Chief Conservator at the Dallas Museum of Art, where he built a new conservation studio and expanded the department. In 2017, he returned to working full-time as an independent artist.
Louis Stern Fine Arts is the exclusive representative of Mark Leonard.