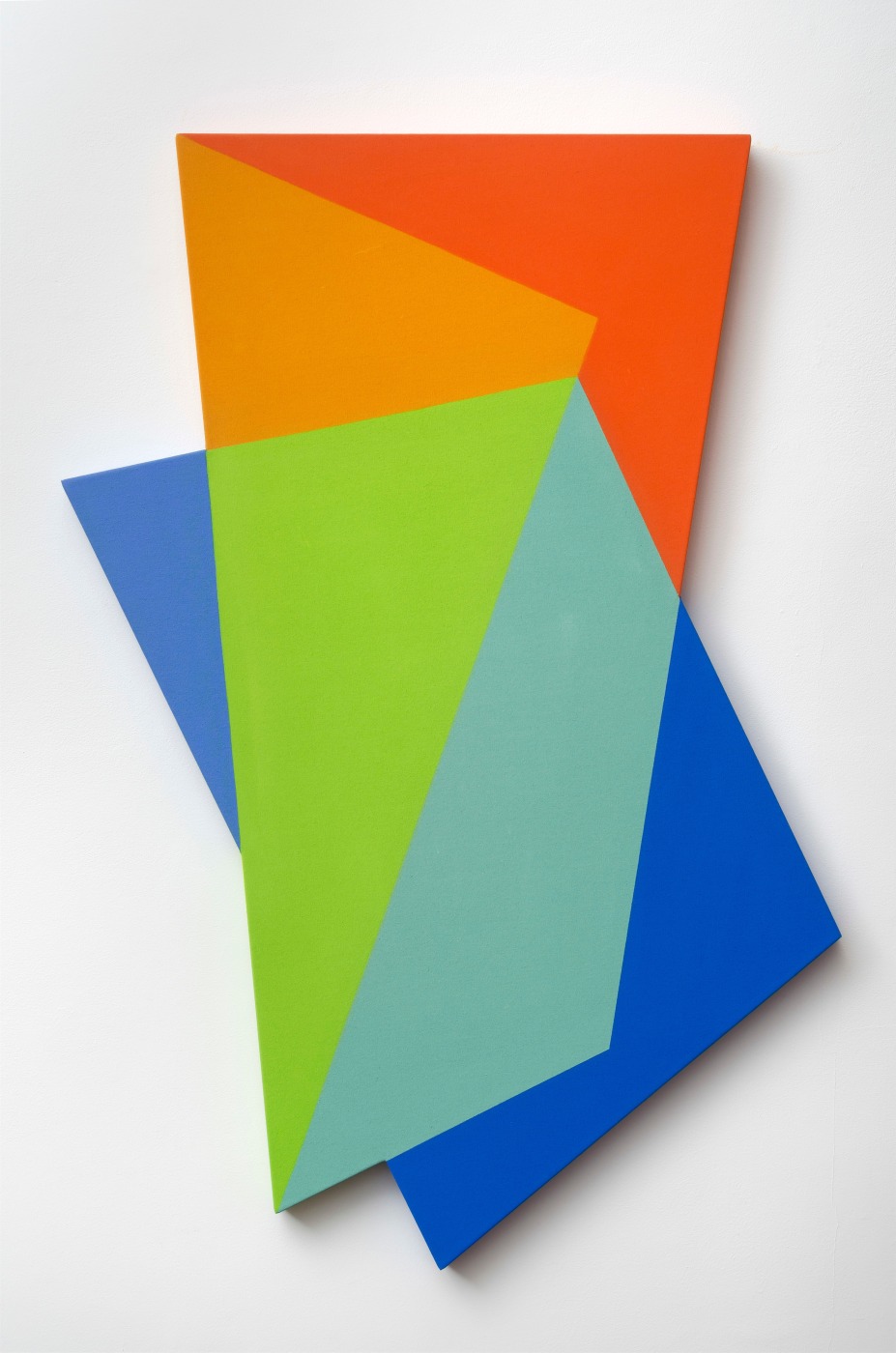 Mokha Laget: Recent Works
April 28–June 2, 2018
Los Angeles, CA. Louis Stern Fine Arts is pleased to present "Mokha Laget: Recent Works." The exhibition of paintings, created within the last two years, bespeaks the artist's meticulous attention to color and craft. Executed on spirited, irregularly shaped canvases that entice the eye with illusory perspective, Laget's work dances with visual enigma and arresting color.
The fusion of shaped canvas and colorplay activate in the viewer a kind of kinetic anticipation, straining against the mind's expectation of symmetry and convention. Three overlapping parallelograms, identical in size, are transformed into an Escher-like impossible object using deftly layered colors, each shape continually fighting to advance to the front. A series of various stacked shapes appear to wrap and fold around themselves, recalling a half-finished origami design. The eye fights to reconcile the missing corner on a jewel-like rectangle. In each painting, the artist's chromatic sleight-of-hand creates optical delights: diaphanous shapes that struggle to escape the confines of the two-dimensional picture plane.
Laget draws inspiration from an expansive visual lexicon acquired during years of global travel. Each dense, velvety color is painstakingly crafted from concoctions of powdered pigments collected abroad. The viewer may recognize playful permutations of the orderly, gemlike geometries of Islamic mosaics. The child of a French diplomat, Laget spent the first six years of her life in the former French colony of Algeria. After traveling extensively, the artist settled in New Mexico, where she continues to live and work. Today, her paintings pulse with the regal geometries and opulent colors of the mountainous landscapes of the American Southwest and the golden sunsets of her childhood home in North Africa.
Like the globe-trotting artist herself, these energetic paintings cannot be contained by four corners. In Laget's own words, "The internal shapes in my canvases want to be liberated. I need to bypass what feels like an unnatural cropping tool. I want the work to breathe and float..."
Mokha Laget studied fine arts at the Corcoran College of Art and Design in Washington DC. There she studied under several prominent members of the Washington Color School, working as a professional artist and studio assistant to WCS painter Gene Davis. Her work has been exhibited internationally over the past 30 years and is included in such collections as the Ulrich Museum and The National Institutes of Health, as well as private and corporate collections around the world.